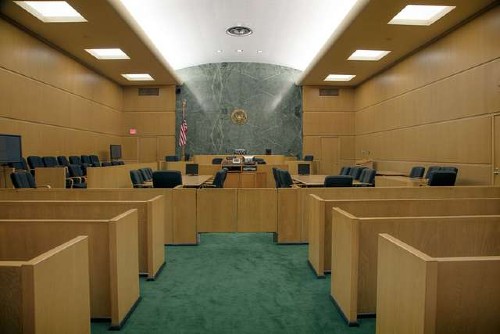 On November 3, Special Counsel Jack Smith filed  the "United States' Opposition to Applications to Broadcast the Criminal Trial of United States v. Trump" with the US District Court for the District of Columbia.
A "coalition of media organizations" has petitioned the court to allow recording and broadcasting of former president Donald Trump's federal trial on charges of conspiracy to defraud the United States, obstructing an official proceeding (and conspiring to do so), and conspiracy against rights.
Granting that request seems like a no-brainer. The Sixth Amendment guarantees the accused the right to a "public" trial, and it's clearly in the public's interest to be able to follow judicial proceedings in real time.
Unfortunately, federal courts respect neither that right nor that interest. "The relief the Applicants seek," Smith argues, "is clearly foreclosed under rule 53 of the Federal Rules of Criminal Procedure and Local Criminal Rule 53.1.1."
The latter being a more detailed version of the former, I'll quote from it:
"The taking of photographs and operation of tape recorders inside the United States Courthouse and radio and television broadcasting from inside the courthouse during progress of or in connection with judicial proceedings, including proceedings before a United States Magistrate Judge, whether or not court is actually in session, are prohibited."
In theory, you or I could personally attend Trump's trial.
In reality, unless we're members of a select club or can camp outside the courthouse for days in advance, our chances of getting in approach zero. The courtroom will be packed, and those who can't get in will be limited to hearing about the proceedings from those who CAN get in.
In an age of inexpensive and unintrusive audio and video broadcasting, that's the exact opposite of "public." There's no good excuse for limiting the public to hearing at second hand about a public proceeding that we could, if allowed to, easily watch in real time or in recorded format.
A footnote to Smith's filing claims that "Counsel for former President Trump has requested that government counsel convey that he takes no position with respect to these Applications."
He SHOULD take a position — the position that the Sixth Amendment trumps (pun intended) the Federal Rules of Criminal Procedure. And he should direct his lawyers to actively pursue broadcast of his trial by supporting the petition and joining any appeal of its denial, all the way to the Supreme Court if necessary.
Thomas L. Knapp (Twitter: @thomaslknapp) is director and senior news analyst at the William Lloyd Garrison Center for Libertarian Advocacy Journalism (thegarrisoncenter.org). He lives and works in north central Florida.
PUBLICATION/CITATION HISTORY